Doris and Elton's
Costa Rica Adventure Tour
Dec. 2011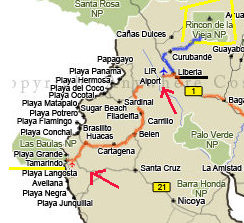 Doris and I reserved one day for a high energy fun packed adventure. After some searching we found http://www.anywherecostarica.com/ and they had an all day tour to Rincon de la Vieja National Park that featured rock climbing, tubing, repelling, zip lines, etc. It required us to ride back past the airport on a narrow winding road which we thought was quite substandard, but later discovered it was one of the best roads in the country. Rincon National Park contains a large volcano that is active with some lava flows and lots of hot springs and very steep sides.
We were picked up at 6:30 am by a very modern 50+ passenger bus for a two + hour ride to the park. Our guide was Pedro who was very nice & friendly and who made our day very enjoyable.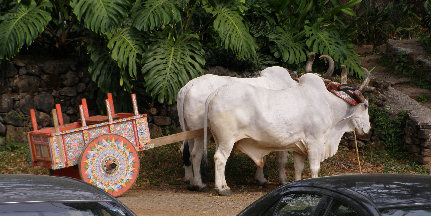 We arrived to a photo opportunity with two very large white Brahman Bulls. Doris and I passed on the option of having our picture taken with us riding on the bulls.
Shortly thereafter, the real action started with a short ride thru overflowing streams and steep mountain trails in an old bus that seemed like it had no possibility of negotiating the trail. Shortly we found ourselves at the tubing staging area at the top of a very deep and steep canyon. After being strapped into our life preservers and a safety lecture we were paired with a large tube with a net bottom that we had to carry down the almost straight down sides of the canyon on a narrow
switchback
rocky trail.
Shortly thereafter we launched one at a time into the churning waters and with instructions to hold on tight. There is no steering with a tube, you just go where the currents take you, frontwards, backwards, sideways and sometimes spinning into the rolling, foaming drop-offs and narrow boiling chasms. About 90 minutes later we arrived at the take out, carried the tubes up a very steep and slippery switchback to the top of the canyon and back to the lodge for a delicious lunch of fish, fruits, rice, beans, salads and desserts. They eat lots of beans in Costa Rica.
45 minutes later it was suit up for the zip line and repelling and we were off into the tops of the jungle and down into another canyon. We were cautioned about snakes in the trees, sides of the canyon, etc. and told to keep our hands and feet out of the vegetation.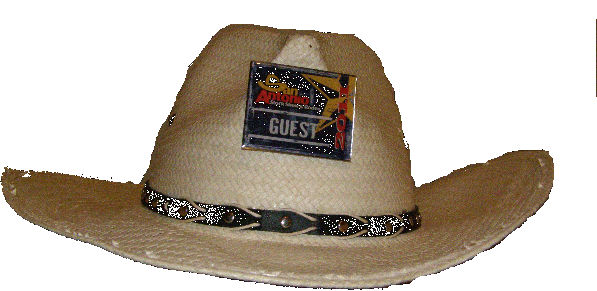 Again about 90 minutes later we were back at the lodge getting paired up with our horse for a 30 minute or so ride to the spa where we received a mud bath and soak
ed in the hot springs.
I was wearing my "cowboy" hat and Doris and I were the only ones not given a helmet to wear (Guess they thought we wouldn't fall off). Anyway they gave me a spirite
d one who had to gallop ahead
and try to stay in front of the faster riders. Doris was paired with a
much calmer one that was content to just follow along near the middle of the pack. Doris was a bit miffed as she's the more experienced rider. Next time she's wearing her cowboy hat.
We arrived back in Tamarindo about 7:30 PM.
We really enjoyed our adventure and look forward to many more.
Click here for
Tubing Pictures
Doris Tubing Video
Doris Zipping Video
Doris Repelling Video
Elton Tubing Video
Elton Zipping Video
Elton Repelling Video
ZipLine_Repelling_Rock_Climbing Pictures
Horseback Riding_Spa Pictures
Arenal Pictures